Living in Italy 1
My dear friends,

I decide to write a little diary about my new live in Italy, at least in the beginning.


What happened so far?
I have spend 2 weeks in Germany after leaving Sweden in the beginning of august with mixed feelings, saying good bye is never easy!
(The car of my brother-in-law with things i accumulated during 2.5years in Sweden)

But it was also very nice to see my family and some friends during this time, and I had the chance to meet my newest godchild: Johanna! She is born in July and together with her twin brother Fabian they are happy healthy babies. The mom Maren was so kind to plan the baptism for next year march, when I have already planned to be in Hamburg for my moms 70. birthday!
(Johanna on the left and Fabian on the right)
I also met some friends from the university while I was in Germany. Even if nearly impossible we managed to be all at the same time in the same city: Karen from Adelaide/Australia, Julia from Florence/Italy and Conny from Bredebro/Danemark. We chatted for several hours; long time no see, so there was need for catching up!

Of course I also used my time for checking my things in storage. There I wrestled down the huge pile of stuff I had, it was necessary to decide what to move and what to get rid of. The storage was in an attic in a barn and therefore quite hot and dusty, not soo much fun to be there actually. After checking all boxes, rising garbage piles and finding some long missed "friends" I piled up things for Italy, less than I thought but still quite a bit.
(this was the pile after I already checked half of the boxes)
On the 16th of August I took the plane to Italy: A new life!
The first weeks were very challenging regarding the weather. Coming from a not brilliant summer in Sweden, to nice weather in Germany ending up with temperatures at least around 35degree or higher. That was tough!
Marco had luckily holidays the first 2 weeks while I was here and therefore we could spend a lot of time on the beach and in the sea! Unfortunately was my skin not prepared for this excessive sunshine and even with factor 30 I burned heavily, next year I try 50!
The knowledge that there is a risk of skin cancer caused by excessive sunbathing hasn't reached the Italians or they are at least strictly ignoring it. Best seems for them to sleep in the hottest lunch sun, without sun protection and celebrate the heavy sunburn like a heroic battlefield injury. It's for the greater good of a nice tanned skin.
Marco tried to escape my attacks with the sun cream but most of the times I could at least cover some parts of him. Unfortunately I have no picture of his belly: After sleeping in the sun with is hand on his belly he had a beautiful white handprint there!
But to sit at the beach and see all these dark dark brown tanned Italians led me to the decision to stand out in the crowd and to be proudly the pale German!
We have also spent a day in the mountains. Around an hour ago from here is a town called Cingole. There we could refresh us in a beautiful storage lake.
On clear days you can have an amazing view from Cingoli: there is a place called balcone delle Marche: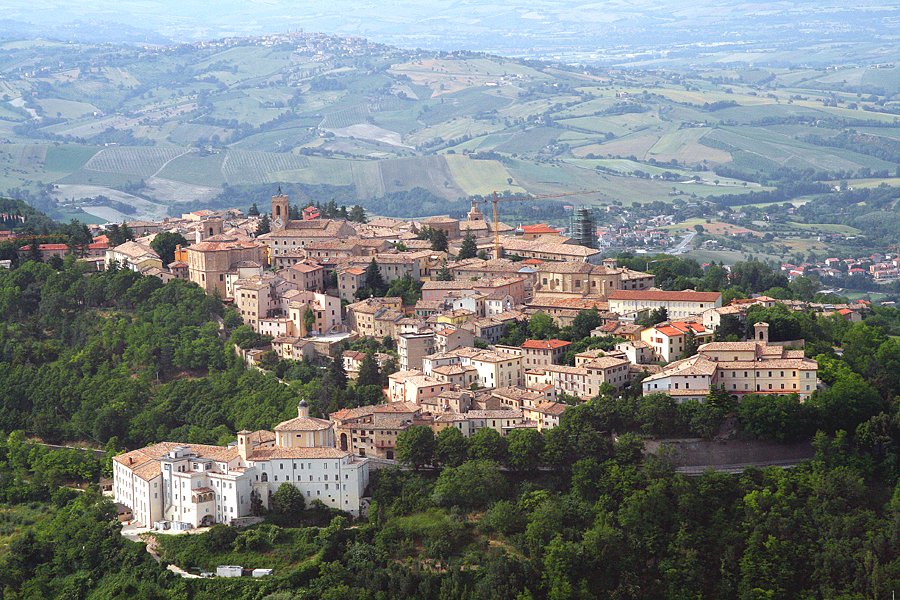 (they say on clear day you can see the sea!)

One beautiful afternoon we had the chance to go with Marcos cousin's boat for a little cruise! We ended up at a place which is called "due sorelle", the two sisters:
(The two rocks are called the two sisters)

A very beautiful place, with an even more beautiful beach and perfect for a little bath (27degree water temperature). This place can only be reached by boat and it was a great fun to go there.
Saturday I forced Marco to go to a Bavarian beer festival close by. I have to admit it was actually great fun and the food was amazingly good. We had Schweinshax'n  (grilled pork leg) freshly from the grill, sausages, sauerkraut and delicious gigantic pretzels

(a very happy German)
all of course combined with some German beer.

(Marco bringing beer!)
There was a German orchestra wearing Lederhosen and Dirndl (traditional bavarian dresses) playing Italian and German songs.
I really enjoyed it and Marco too, when you are abroad even Bavarians are fun!
This week I have started to look into the lab where I'm probably going to work for. The people are very friendly and luckily are very good English-speakers. It's very relaxed for me at the moment, just looking over other peoples shoulders and getting an impression of the work, methods etc. I will tell more when more exciting things happen.
And now to the rubric: Italians, a peculiar species!
Once in a while I will reflect on the differences between Italians and the rest of the world. Topic of today:
Piano! Piano!
In Italy things need time!
Little things like bringing down the garbage, going from the car to the apartment, saying good bye, picking up something, shopping, going for ice cream …
Why? Because Italians talk, a lot, more than other people! For example: Meeting the neighbours normally ends up in an at least 20min up to 1.5h lasting conversation (in the hallway or yelling at each other from the second floor balcony to the ground). During this they minimum say three times "Ciao" or " A dopo" or "Arrivederci", making a step away from each other to then find another topic to talk about for another 10 minutes! In the beginning I prepared myself in these moments for moving on, now I already learnt that I should not raise hope at these moments, that it is  more a ritual than the real willingness to end the conversation. So normally I try to stand there listen to a conversation in a language I don't understand (they speak soo fast and all at the same time) and try to stifle a yawn and look not too bored or stupid (you quickly look stupid, when people start laughing and you just stare dump, so I at least try to smile).
So the first lesson I learnt in Italy about Italians is that phrases like: "I just quickly…", "I will shortly…", "It will not take long!" are completely meaningless, no they are even untrue.
So now when Marco says it will take just 10 minutes I normally ask him: "German or Italian 10 minutes?"
Doreen