Mount Accoddi
THE NEOLITHIC AGE
The Mount of Accoddi Sanctuary /SS

In neolithic age Sardinia was still sporadically populated. The more imposing remained monument is an altar/sanctuary in locality Mount of Accoddi near Sassari; in it they have been characterized two constructive phases: 1st  phase, or "red temple" phase, 3200 b.C., and 2nd  phase, or real temple-altar phase, just datable on 2900 b.C. In the 2nd phase, the total dimensions are 37,5x30,5 ms. To the terraces it is approached with one large flight, that measures 41,50 ms.
The tipology of the Mount of Accoddi Sanctuary is not found in European within; in fact it would seem an example of the Mesopotamic model of ziqqurrath, even in the 1st  phase it consists of a single terracement and in the 2nd phase two single ones. The altar is astronomically oriented towards north; it could therefore has been used after religious functions connected with the polar star. Such bearing is not found in European within. It is not possible moreover to make suppositions on the function of the present outside megaliths ones, because moved in the centuries: a 2900 b.C  trapezial big slab supported on three stones, like a small dolmen, with seven small going back cavities at the edges; a more small slab of  3200 b.C.; a large stone of perfectly spherical shape, on the whose surface is carved with numerous little cavities, representing - perhaps – some constellations; one menhir high 4,44 mts., attributable at the 1st  phase.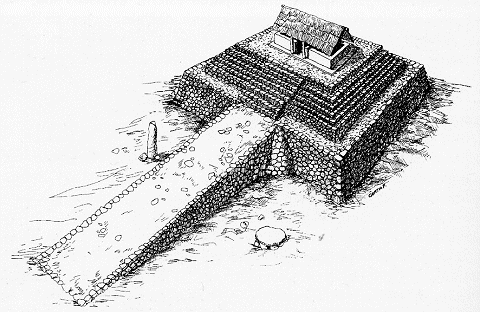 The Mount of Accoddi Sanctuary
sassari, casteldoria, Italy
Luca